Our stud dog
Details

Created on Tuesday, 13 December 2016 16:28
Bashir became officially stud dog in our kennel. :)
(photo at 19 months)
IDS Nitra, SK 4.12.2016
Details

Created on Monday, 05 December 2016 17:06
On 4th December we took part with Bashir at the last czechoslovakian dogshow in 2016. We had premiere in intermediate class. Judge liked him a lot, so we got very nice judge report and Excellent 1, CAC (despite his cooperation that day wasnt ideal for me :D ).

We have a lot of work and trainings together in the future, but he is still very young dog with a lot of energy, who has his whole show career prior him. :)
Our dog - Abashiri
Details

Created on Sunday, 27 November 2016 21:18
The male from A litter - Abashiri Akai, who stayed with us in our kennel, was done at the age of 18 months mandatory health examinations with the best possible results. We are so happy! :)
Till these days he has show titles "Puppy champion of Slovakia" and "Junior champion of Slovakia" :)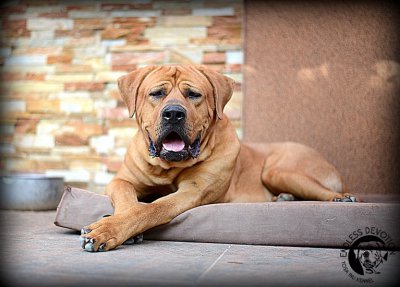 (photo at the age of 16 months)
Litter A - 1st birthday
Details

Created on Saturday, 23 April 2016 11:57
On 23rd April 2016 our boys from litter A celebrates their 1st birthday. All got from us little gift, hope all boys were happy from it. :)
So once again - Happy Birthday !!! :)
( on photo male Abashiri - Puppy champion of Slovakia, awaiting Junior champion SK )
All boys has new homes :)
Details

Created on Sunday, 23 August 2015 17:57
We have found and chosen the right loving owners for all our puppies. We are sorry, but we no longer have any puppies for sale.
All owners are happy about their temperament, condition and size of the puppies, which is for us the greatest reward!
We are not planning any next litter now, but we are preparing some news. :)
New photos - boys 6 weeks
Details

Created on Friday, 05 June 2015 14:28
We have added new photos to photogallery again - new photos of puppies till their 6 weeks HERE . :)
3 boys (2 black and 1 red) are waiting for their new loving owners. :)
Puppies 5 weeks and their first stay in the garden :)
Details

Created on Sunday, 31 May 2015 09:38
We have added new photos of puppies till their age of 5 weeks HERE. They are also from Thursday 28th May. - i.e. from their 5th week in the garden. Moving to a new environment was for them no problem, they acted as they have been there from birth. :) They met also new sounds, such as cutting machine, brush cutters, the barking of dogs from neighbors, screaming children ... and none of it did not make them a problem. They also joyfully welcomed first visits. We love developing characters of our guys, they are real darlings! :)
Boys 4 weeks :)
Details

Created on Thursday, 21 May 2015 19:40
Our boys have 4 weeks and were already given their pedigree names to them :)
blue boy - ABASHIRI AKAI
green boy - ASAGO KOFI
brown boy - ATAMI RAION
white boy - AKIRUNO SHIN
New photos HERE :)
New photos of puppies :)
Details

Created on Saturday, 16 May 2015 15:55
We have added new photogallery of puppies till their age of 3 weeks :)

Photogallery HERE